Årets låtar (ej rangordnade):
Richard Hawley - Born Under a Bad Sign
My Morning Jacket - Off the Record
Antony & the Johnsons - Hope There´s Someone
Teenage Fanclub - Flowing
Mark Mulcahy - Cookie Jar
M. Ward - Four Hours In Washington
The Magic Numbers - Mornings Eleven
Robbie Fulks - Doin´Right (For All the Wrong Reasons)
Bettye LaVette - Down To Zero
C.AARMÉ - We Are the World
Damien Jurado - Lion Tamer
Brendan Benson - The Pledge
Carlos Guitarlos - I Feel Love
The White Stripes - My Doorbell
Clem Snide - Something Beautiful
Grandaddy - Pull the Curtains
Los Super 7 - Cupido
Marah - The Demon Of White Sadness
I´m From Barcelona - Treehouse
Richard Swift - Losing Sleep
Bobby Bare - Yesterday When I Was Young
Årets konserter (ej rangordnade):
Evan Dando
Nicolai Dunger
Fanfare Ciocarlia
Nick Lowe & Geraint Watkins
Tift Merritt
Bruce Springsteen
Clem Snide
Teenage Fanclub
Magnolia Electric Co
The Posies
The Magic Numbers
Damien Jurado
Jackie Leven
Andrew Bird
Cheatin´ Hearts
Ja, jag missade Antony & the Johnsons. Och den största besvikelsen var att Mark Mulcahy ställde in sin spelning.
Årets Livealbum...
...är förmodligen Wilcos "Kicking Television", men jag har faktiskt inte hört det än och livealbum-skeptiker som jag är har jag inte köpt ett enda sådant i år.
Årets CD-R:
I´m From Barcelona
- Sing!! With I´m From Barcelona
Filip
- Filip Sings Charles Bukowski
Årets DVD:
No Direction Home: Bob Dylan - A Martin Scorsese Picture
The Office - julfesten
Årets ny-/återupptäckter:
Elton John
Prince
Årets cover:
Bruce Springsteen - Dream Baby Dream (Suicide-cover som avslutade Scandinavium-spelningen i närmast gospelextas)
Årets pubrockgärning:
Ace Records
återutgivning av de tre stenhårda The Count Bishops/The Bishops-albumen.
Årets hip hop:
Kanye West - Late Registration
(och först i år upptäckte jag "The College Dropout")
Årets musikgenre:

Indiecrooner
Årets mest försummade musikgenre:

Jazz (sorry)
Årets filmer:
Crash
Sideways
Broken Flowers
Årets tv-serie: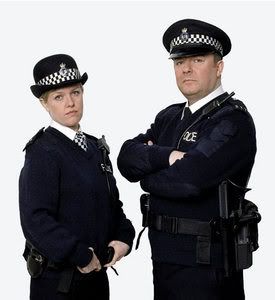 Extras
Årets bästa leksak:
Creative Zen Micro, 6 GB
Årets fester:
Tartars vårfest i Majvallstugan
Woody Wests femårsjubileum ute i Mölndalsskogen
Årets skivaffär:

Dirty Records
Årets tidning:

Sex
Årets personliga höjdpunkt:
Mitt bröllop
Årets trend bland alla gamla ungkarlar i kamratkretsen:
Förhållande
Årets maträtt:

Panerad ost
Årets öl:

Branik
Årets lådvin:
Mauro Primitivo Del Salente